Motion Creates Emotion
Posted on January 5th, 2012 by Andries
---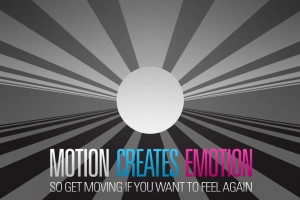 Welcome back everyone. 2012 is here and exciting times await us! Just to get you all motivated and moving, here's a couple of reasons why you should be physically active:
Does physical activity instigate optimism and consequently happiness?
Optimism has been associated with enhanced inspiration, perseverance, and performance. Physical activity could influence optimism through mastery of experiences, through its impact on reducing anxiety and lowering levels of depression, and enhances self-efficacy. Therefore the hypothesis stated that active individuals are more optimistic and less pessimistic than their less active counterparts.
What would life be without physical activity or exercise?
It's the time where you become one with the environment and just loose yourself and generate energy from it. It's been found that when individuals don't participate in any physical activities, they become lazy, and get this feeling of constant tiredness. But when you exercise, you feel energetic, relaxed, and motivated. Therefore being more physically self-efficient and decreasing the state of anxiety. Pessimistic people on the other hand are found to be more inactive due to increased fear of potential failure, therefore leading to higher levels of depression because of their low physical self-efficacy.
Being positive in life and being optimistic depends on every individual him/herself. It is all an indication of how strong you are psychologically, emotionally and physically. But without any physical activity, you feel lethargic and depressed. Optimism gives you control over your environment and attributes to a more positive outlook upon exercise and life itself.
Kavussanu, M. & McAuley, E. (1995). Exercise and optimism: are highly active individuals more optimistic? Journal of Sport and Exercise Psychology, 17, 246-258.
Hope you all have a great year and looking forward to sharing more knowledge and experiences with all of you during 2012.
If you have any queries or questions or need more info on anything that interests you, leave a comment and I'll add it to InSession.
STAY INJURY FREE BY BEING ACTIVE
Tweet