Jana van Jaarsveld
Posted on January 8th, 2019 by Sinaicom
---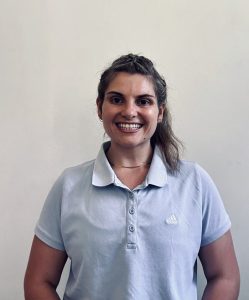 Jana has always been fascinated by health and the human body. She is passionate about people and being a Biokineticist enables her to make a positive contribution to people's physical health and wellbeing.
According to her, Biokinetics truly is medicine, not just physical but mentally as well, and everyone can benefit from it.
She completed her undergraduate (Bsc Human Movement science and physiology) at the North-West University (Potchefstroom) in 2019, following her Honours Degree (Bsc Honours in Biokinetics) at the University of Witwatersrand in 2020.
There after she completed her internship in 2021, where she mainly worked with chronic- and Lower back patients. In 2022 she extended her knowledge and attain more experience in the orthopaedic/ sport related injuries and worked at the Rosebank Sport Clinic where she was fortunate to work with local and international athletes.
She has a keen interest in Orthopaedic/ sports related injuries as well as Neurological rehabilitation, especially in the paediatric and geriatric populations. Her rehabilitation is generally educational, research and experience based.
She enjoys to push her bodies limits and loves outdoor activities such as running and hiking with family and friends.
---
Tweet