Nicole Harran
Posted on January 8th, 2019 by Sinaicom
---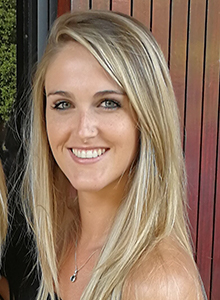 Growing up in Benoni, Nicole Harran attended Ashton International College until the age of eight. It was during her time at Ashton that she became infatuated with sport and the idea of exercise. When Nicole moved from Benoni to Sandton in 2006, she enrolled at St Stithians Girls' College and later went on to matriculate with endorsement to a bachelor's degree in 2014. During her time at St Stithians, Nicole was involved in a variety of sport, focusing on netball and, at a later stage of her schooling career, water polo.
She represented the St Stithians Girls' first team netball squad from 2010-2014 and went on to captain the team during her matric year (2014). Some of the highlights of Nicole's netball career, include being selected to play for the district 13 netball team (2010-2013) and the provincial Central Gauteng indoor netball team (2012). Nicole was recognised with a honours award in netball at St Stithians Girls' College in 2013 and again in 2014. Nicole also participated in water polo, representing the St Stithians Girls' first team and provincial Central Gauteng squad from 2010-2012. She was awarded her colours in water polo during these three consecutive years.
In 2015 Nicole studied Sports Science at the University of Pretoria, where she completed her undergraduate degree with 6 distinctions. In 2018 Nicole completed her postgraduate honours degree in Biokinetics at the University of the Witwatersrand, graduating with distinction in all subjects.
Nicole admits "I have been passionate about sport, exercise and rehabilitation from a very young age which ignited my passion to pursue a career in Biokinetics – to further my understanding of the human body and exercise." Nicole continues, "I completed a pilates matt course in 2018 through Body Arts and Science International Education. Whilst on this course, I realised the profound effect that mindful exercise can have on the body. Since then I've specialised in pilates training focussed on the elderly, children and golfers."
Nicole's main interests still lie within the field of orthopaedic and sports rehabilitation. Nicole sums it up in her own words, "I thoroughly enjoy working with, and being exposed to, an array of diverse individuals, helping to improve their quality of life and independence. It's all about making a difference."
---
Tweet